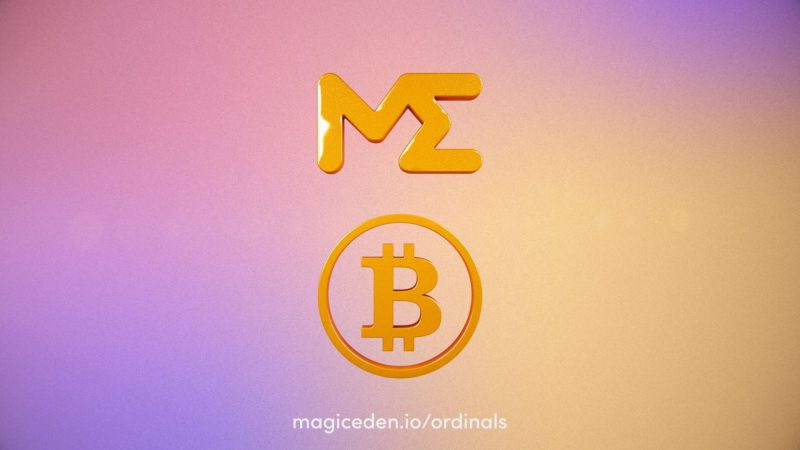 Magic Eden–
Cetoex News – Polygon-based NFT (non-fungible token) marketplace, Magic Eden has launched a new marketplace for Bitcoin Ordinals. The new platform is similar to what Magic Eden offers its Polygon, Ethereum, and Solana-based NFT customers. Magic Eden's move comes after a surge in the popularity of the Bitcoin Ordinals NFT collection.
Just like with other chains, the Polygon-based marketplace aims to bring its expertise to the Bitcoin Ordinals space. By creating a marketplace on Bitcoin, the company challenges the established quo and demonstrates its capacity to go through technical difficulties. In January, Casey Rodarmor, a former Bitcoin core contributor, unveiled the new Ordinals protocol. Since then, Bitcoin Ordinals have become increasingly popular in the NFT ecosystem.
Why does the Polygon-based marketplace want to offer Bitcoin NFTs?
Data from Dune Analytics indicate that between Feb. 1, 2023, and March 1, 2023, there were 240,000 more Bitcoin Ordinals inscriptions than at the beginning of January 2023. A total of 567,087 currently exist on March 21. According to the official statement, the quick adoption of Bitcoin NFTs was a major driving force. Furthermore, Bitcoin is the first blockchain to exist, therefore, it has some sentimental value to traders.
The new marketplace only permits the sale of second-hand Bitcoin Ordinals. Moreover, the firm stated that it is also contemplating potential tools, like its launchpad, which it provides for other chains, that would make it easier for producers to mint or inscribe Bitcoin NFTs. Magic Eden claims there won't be any royalty support in the marketplace. Nonetheless, the firm is looking into this sector as there is "very little tooling" and "no secure and trustless enforcement solutions."
Bitcoin Ordinals have kicked off and brought in a rejuvenated interest in the non-fungible sector. ORDX and Generative XYZ, which debuted in February, are two other Bitcoin Ordinals marketplaces that have already gone live. In a similar way to Ethereum NFT marketplaces, NFT platform Gamma.io introduced its own Bitcoin Ordinals market this week, enabling users to produce and trade ordinal inscriptions.
NEWS BY – CETOEX NEWS