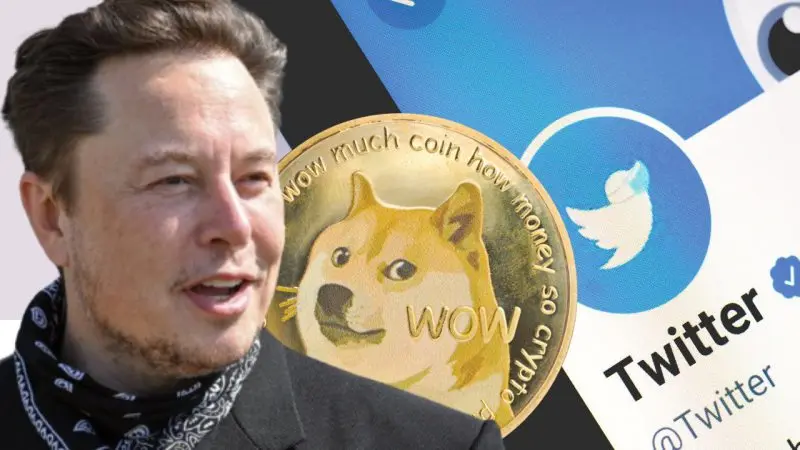 Elon Musk, CEO of Tesla and the owner of Twitter, conducted a poll on the social media platform, asking people if he should step down as the head of the tech company. Being the Dogecoin (DOGE) proponent that he is, the popular coin dived with the possibility of Musk stepping down.
The final results of the poll have 57.5% agreeing with Musk stepping down. Musk has already said that he would abide by the results of the poll. Hence, it is very likely that he will step down as the Twitter boss.
Dogecoin (DOGE), being a memecoin, is dependent on social media engagement and mentions for relevance. Musk recently hinted at DOGE being incorporated into Twitter's upcoming payment option. However, the possibility of Musk stepping down has caused concern among the DOGE community. Many are worried that the plans for DOGE being a part of Twitter's payment option might be off the table. Consequently, the token took a turn for the worse. At press time, DOGE was down 16% in the weekly charts.
Will Dogecoin fall if Elon quits as Twitter CEO?
Firstly, if Musk quits as Twitter's chief, he will still be the de facto owner of the platform. The busk still would stop with him. Therefore, it is unlikely that Twitter's plans to incorporate DOGE in its payment platform are off the table. Chances are that the leadership would change, but plans would remain the same.
Moreover, Dogecoin's recent plummet comes with a larger crypto market plunge. Bitcoin (BTC), the original crypto, also dived, falling below $17k again. Hence, the DOGE fall could have a lot of other reasons for tanking, apart from Musk's hint at stepping down as Twitter's boss.
With that said, it is still possible that DOGE could fall further if Musk quits as Twitter's boss, as many of the token's rallies stemmed from Musk's support of the memecoin.
At press time, Dogecoin (DOGE) was trading at $0.078182, down by 0.1% in the last 24 hours. Moreover, the token is down by 89.3% from its all-time high of $0.731578, attained in Mat 2021.