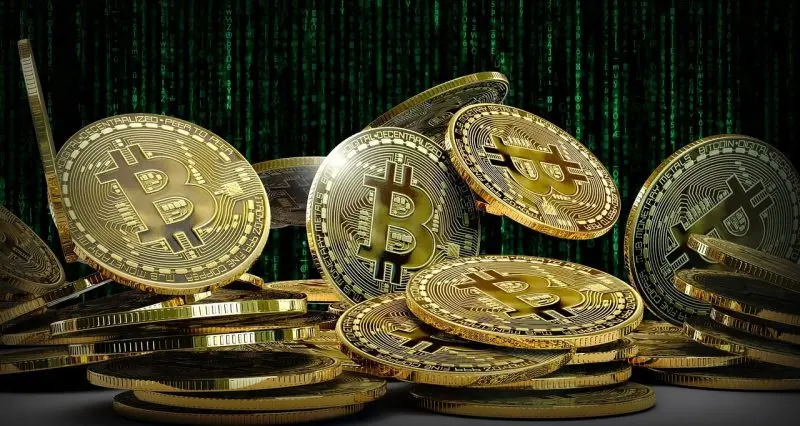 Cetoex News – A recent analysis by Glassnode revealed that Bitcoin miners have earned an aggregate of $50.2 billion via revenue from block subsidies and fees since inception. However, it is a known fact that mining is fairly capital-intensive.
As a result, miners end up diverting back funds into the production process to sustain and stay afloat. According to Glassnode, these stakeholders have incurred an all-time estimated input cost of $36.6 billion. This deflates their profit margin down to $13.6 billion. The same translates to 37%.
Even though miners have earned a positive figure to date via operations, it should be noted that not all days have been profitable. In fact, the average miner has seen more unprofitable or red days when compared to green days. Chalking out the same, a recent Glassnode report noted,
"Upon assessing the number of trading days where Miner Revenue exceeded the daily Production Cost, we find that this was the case on 47% of trading days, and thus 53% of trading days have been unprofitable for the average miner."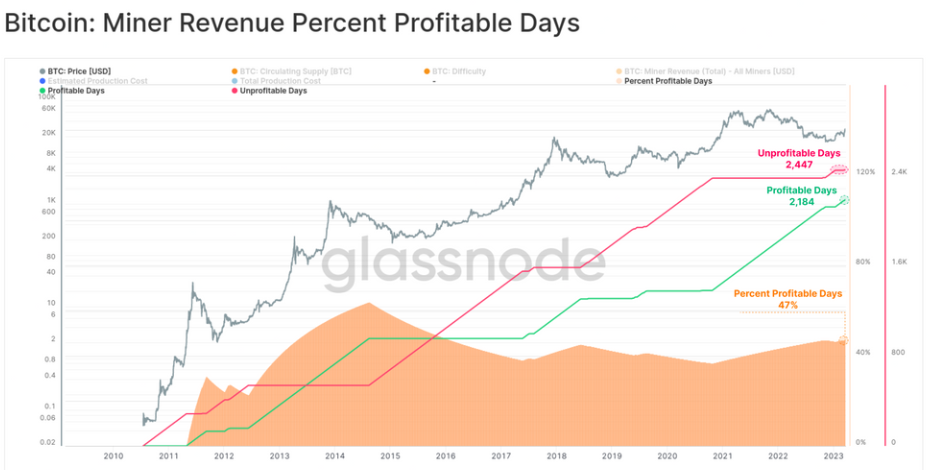 Leaving aside miners' state, Bitcoin's price has been profitable around 89% of the time. As analyzed in a recent article, investors have reaped gains for over 4000 days, while only for about 500 days in aggregate they have been underwater.
Short-term Bitcoin miner outlook
Bitcoin miners seem to be clinging to their coins lately. As shown below, the miner reserve has been relatively flat over the past few weeks. However, it noted a steep incline from $36.8 billion to $51.8 billion in just the span of a fortnight in March. At press time, the number stood even more elevated at $52.3 billion.
A drop in the miner reserve is usually bearish, for it indicates that these stakeholders are facing sell pressure and vice versa. Thus, it can be contended that miners are holding their coins with conviction, for now.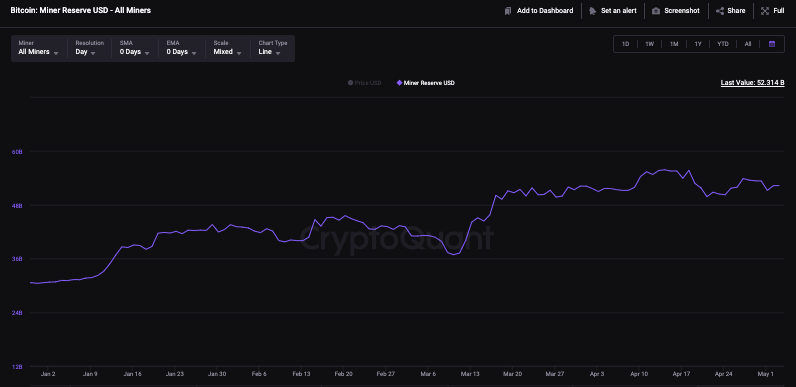 In other mining-related news, the White House Council of Economic Advisers doubled down on the 30% crypto mining tax. As reported earlier,  they contended that the Digital Asset Mining Energy [DAME] excise tax will encourage firms "to start taking better account of the harms they impose on society."
NEWS BY – CETOEX NEWS