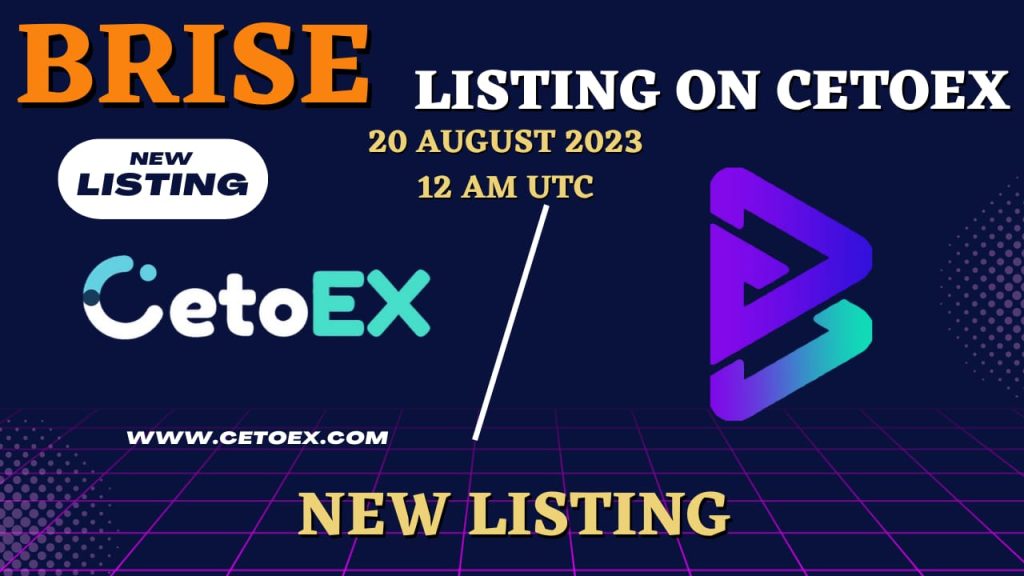 Bitgert Brise Listing On Cetoex : A thrilling upgrade is coming your way if you're a cryptocurrency aficionado that's likely to grab your attention. We are excited to announce that Bitgert Brise (BRISE) has been listed on CetoEX, providing additional trading and investment options. This most recent addition to our trading pairs is expected to open up new opportunities and financial rewards.
Table of Contents
📢 New Listing Alert 🚨
The arrival of Bitgert Brise (BRISE) as a new trading token on CetoEX has the cryptocurrency community on the edge of its seats. Here is all you need to know about this incredible event that will undoubtedly have an impact on the crypto landscape:
Bitgert Brise Pair: BRISE/USDT
The Bitgert Brise trading pair will be BRISE/USDT, giving investors a simple and straightforward option to swap their assets. You will have the opportunity to take advantage of the trading chances that this promising coin brings with the BRISE/USDT trading pair.
Deposit Timing: 11:00 on August 20, 2023 (UTC)
Date your calendars! You will be able to deposit Bitgert Brise (BRISE) tokens onto the CetoEX platform beginning at 11:00 on August 20, 2023 (UTC). This is your chance to be ready for the trade activities that will be taking place soon and to reserve your place in this exciting endeavor.
Trading Launch: 12:00 on August 20, 2023 (UTC)
Soon, the wait will be gone! Trading in Bitgert Brise (BRISE) will begin in earnest at 12:00 on August 20, 2023 (UTC). This is the start of your journey to learn more about the possibilities of BRISE tokens and take part in the vibrant cryptocurrency markets.
Read This : Cetoex Made Easy 8-Step Guide to Buying Crypto.
Join the BRISE Community and More!
Do you belong to the BrisArmy? If not, this is the ideal opportunity to do so and become a part of this thriving community. You may help shape Bitgert Brise's future by joining a committed community that is confident in the town's potential.
As we warmly welcome Bitgert Brise to the CetoEX platform, we cordially ask you to keep checking back for updates. The ability to diversify your cryptocurrency holdings and take advantage of BRISE tokens' development potential is provided by this listing.
🔥 In Conclusion
An interesting milestone that demonstrates our dedication to offering traders a wide variety of tokens and trading pairings is the Bitgert Brise launch on CetoEX. We're committed to being on the cutting edge of innovation and giving our members worthwhile options as the crypto world develops.
Keep in mind that the formal trading debut will occur at 12:00 on August 20, 2023 (UTC), after the deposit phase begins at 11:00. Get ready for a new crypto adventure by joining the BRISEARMY!
CetoEX: Your Cryptocurrency Trading Hub
Welcome to CetoEX, your go-to bitcoin trading site. CetoEX provides a straightforward user interface and a wide range of trading pairings, including well-known cryptocurrencies, altcoins, and developing tokens, whether you're an experienced trader or new to the market.
Security comes first. Your valuables and personal information are completely protected by cutting-edge encryption and multi-factor authentication. Trade with assurance on a platform that puts your security first.
CetoEX, however, is a growing community of cryptocurrency lovers; it is not only about trading. Keep in touch, work together, and stay up to date on the newest trends, breaking news, and market changes.
We provide interesting prospects as a result of our dedication to innovation. CetoEX makes sure you're constantly in front of the curve, from fresh token listings to cutting-edge trading tools.
Join CetoEX now to explore the world of infinite cryptocurrency possibilities. Discover secure trading, innovation, and more all in one location.
#BRISE #BRISEARMY #CETOEX
Prepare yourself to take full advantage of this intriguing new addition to our trading platform by getting ready. With Bitgert Brise (BRISE), which is now accessible on CetoEX, change is in the air, and you have the chance to ride the wave of opportunity and innovation. remain informed, remain connected, and prepare ready to capture the upcoming chances!
Social Media