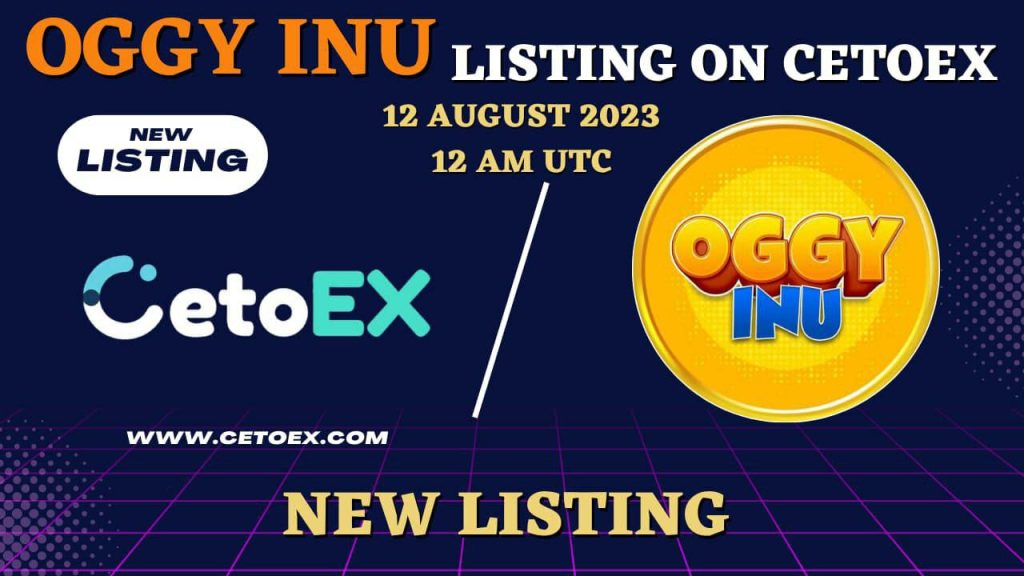 Cetoex listing : Are you prepared for a revolutionary change in the cryptocurrency industry? Prepare to be amazed as CetoEX introduces the newest member of its renowned roster. CetoEX is once again at the forefront of innovation. We are excited to share that OGGYINU (OGGY) is almost ready to launch on the CetoEX platform, exciting the whole cryptocurrency community.
Table of Contents
Why OGGY INU (OGGY)?
With good cause, Cetoex listing OGGYINU (OGGY) and making headlines. With a distinctive value proposition centered on empowering a decentralized ecosystem, this utility token enables holders to actively take part in a variety of activities inside its expanding network. OGGYINU has been drawing interest from both experienced and new investors due to its innovative use case and mission to challenge the status quo.
For traders and fans, the launch of the OGGY/USDT trading pair on CetoEX offers up a world of possibilities. This partnership offers the simplicity and adaptability required to interact with OGGYINU naturally and take advantage of its potential for market-driven profits.
Cetoex listing
CetoEX has once again set the stage for excitement in the cryptocurrency realm with its latest announcement. The platform's reputation for introducing groundbreaking projects continues to grow, and this time, it's all about OGGYINU (OGGY). As the countdown begins for its listing on CetoEX, traders and enthusiasts are gearing up to explore the potential of this dynamic utility token. With a history of bringing innovative tokens to its users, CetoEX's commitment to providing a diverse range of opportunities remains unwavering. The CetoEX listing of OGGYINU promises to be a defining moment in the crypto landscape, offering participants the chance to engage with a token that has already captured the community's attention.
The OGGY/USDT Trading Pair: Opportunities Await
The introduction of the OGGY/USDT trading pair on CetoEX opens up a world of opportunities for traders and enthusiasts. This pairing provides the ease and flexibility needed to seamlessly engage with OGGYINU, leveraging its potential for market-driven gains.
Countdown to Excitement:
Set a reminder for a meeting with destiny! The deposit option becomes accessible on August 12, 2023 (UTC), at precisely 11:00 AM, and that is when the action begins. You have the opportunity to be ready for the exciting trading experience that lies ahead during this time.
And now the moment you've been waiting for has arrived: the start of trade. On August 12, 2023 at 12:00 PM (UTC), CetoEX listing the OGGY/USDT trading pair. This is your chance to jump right into the action and profit from OGGYINU's potential volatility while utilizing the steadiness of USDT.
Read This : Cetoex Made Easy 8-Step Guide to Buying Crypto.
The CetoEX Advantage:
There are several reasons why CetoEX is a top cryptocurrency exchange, all of which add to its standing as a shelter for traders:
Diverse Listings: CetoEX takes pleasure in presenting its consumers to cutting-edge and interesting enterprises. Its dedication to providing a wide range of investment choices is further demonstrated by the inclusion of OGGYINU (OGGY) to its portfolio.
Your security is paramount, and nothing can compromise it. CetoEX uses cutting-edge security methods to ensure that your assets are protected, allowing you to trade with confidence.
Liquidity Abounds: The extensive liquidity pools on CetoEX make sure that even during periods of heightened market activity, your trading experience is flawless.
User-Centric Interface: CetoEX's user-friendly interface caters to all skill levels, guaranteeing that everyone can get the most of their trading trip, whether you're an experienced trader or you're just starting to discover the world of cryptocurrencies.
In Conclusion:
The countdown has startedof cetoex listing oggy inu, and excitement is growing. OGGYINU (OGGY)'s listing on CetoEX is a significant development with enormous potential for traders, investors, and anybody else with an interest for cryptocurrencies. The possibilities are endless now that OGGYINU, a ground-breaking utility token, has joined the CetoEX family.
So be sure to mark your calendars, let others know, and be ready for this historic event. The day of August 12, 2023, is likely to go down in the annals of cryptocurrency trading. As we welcome OGGYINU (OGGY) to the CetoEX platform and set off on a journey of innovation, expansion, and profitability, we invite you to join us. cetoex listing
Social Media