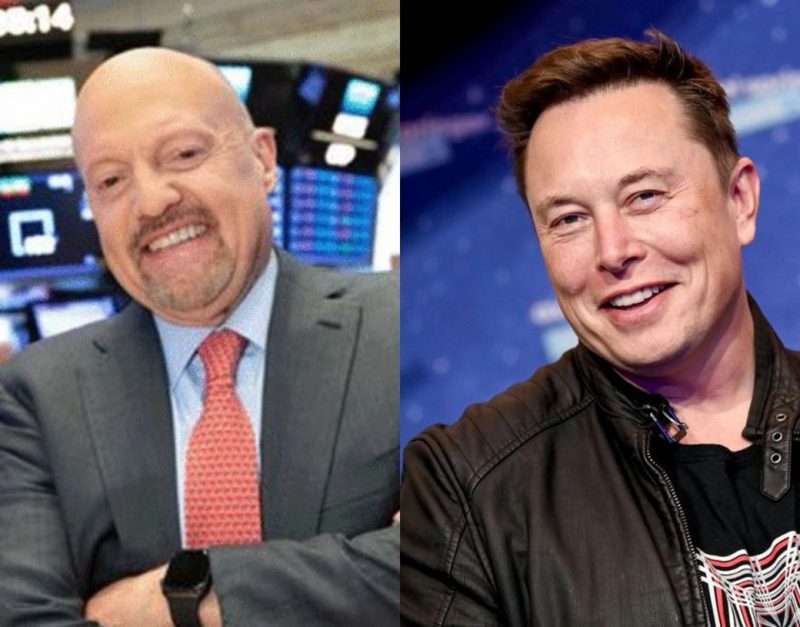 Cetoex News – The CNBC Mad Money host, Jim Cramer is known in the cryptocurrency world for all the wrong reasons. Cramer has a reputation for providing price predictions on his television segment only to see the opposite coming true. The reputation for steadily giving wrong price calls eventually led to the birth of the notorious 'Inverse Cramer effect'. Billy Markus, the co-founder of Dogecoin poked fun at Cramer in a tweet and Elon Musk replied, highlighting the 'inverse Cramer effect'.
In a sarcastic tweet, Dogecoin co-founder Markus said, "Jim Cramer is good at his job" referencing the opposite. Minutes later, the Tesla CEO joined in and poked fun at Cramer saying, "The Force is strong with inverse Cramer," referencing the Star Wars franchise.
The tweet sparked a flurry of memes showing Cramer's previous price predictions that eventually went downhill. The others jokingly suggested doing the opposite of what Cramer predicts to make money in the markets.
In 2022, Cramer said in his Mad Money show that "you could make a lot of money" by investing in Signature Bank. However, Signature Bank was shut down by regulators this month, in the third biggest banking failure in the U.S.
Cramer had also told investors on his show to buy Silicon Valley Bank stocks last month. A month later, SVB shut operations and was closed by California regulators. It is the second biggest banking failure in the U.S.
Jim Cramer on Dogecoin, Bitcoin & Other Cryptocurrencies
Just a few days ago, Cramer urged investors to sell Bitcoin, as the banking crisis could tank the flagship cryptocurrency.
Bitcoin was at $22,000 when the analyst mentioned his sell call. However, BTC reached $26,000 on Friday spiking $4,000 in three days after his remark. Cramer has also taken on Dogecoin and other cryptocurrencies previously. You can read more details about it here.
NEWS BY – CETOEX NEWS