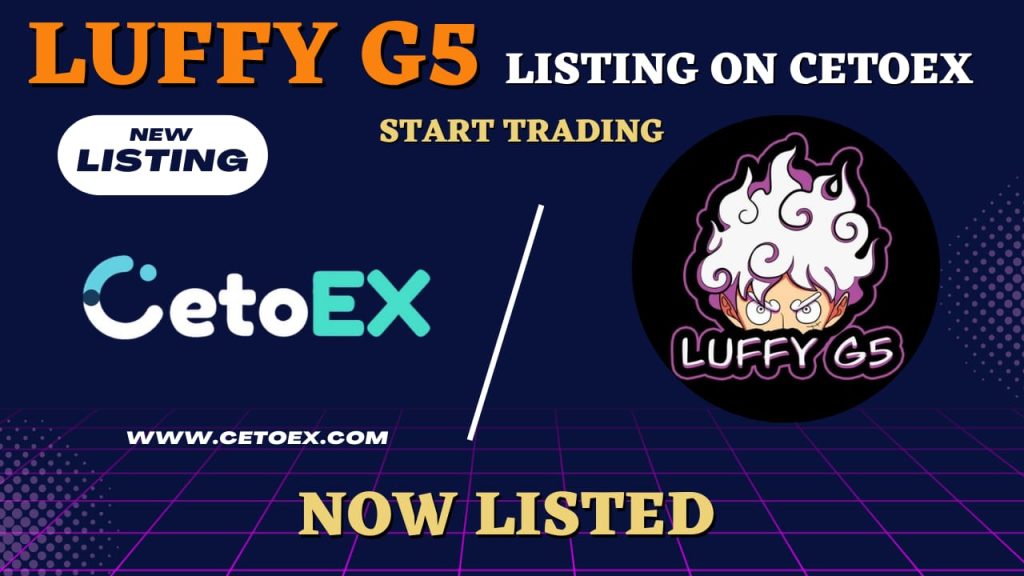 LUFFYG5TOKEN listed on CetoEX has brought an exhilarating wave of anticipation and opportunity within the cryptocurrency community. As one of the latest additions to the ever-expanding repertoire of digital assets, the listing of LUFFYG5TOKEN on CetoEX has quickly become a topic of fervent discussion and interest among both seasoned traders and newcomers alike.
Table of Contents
Seamless Trading with LFG/USDT Pair
The LFG/USDT pair is now accessible for trading on CetoEX, giving anyone wishing to enter the world of trading digital assets a smooth and user-friendly experience. With LUFFYG5TOKEN listed on CetoEX, customers may benefit from the dependability and accessibility offered by this trading pair, enabling a more streamlined and effective trading experience.
Open Deposits and Trading Now
The platform's open deposit option enables users to quickly start trading and fully benefit from the chances provided by LUFFYG5TOKEN listed on CetoEX. Investors now have a fantastic chance to profit from the momentum and future expansion of LUFFYG5TOKEN inside the cryptocurrency market as trading is already in full swing.
Excitement within the Luffy5 Community for LUFFYG5TOKEN Listed on CetoEX
Enthusiasts and members of the Luffy5 community have eagerly anticipated the moment when LUFFYG5TOKEN would be listed on CetoEX. The buzz and enthusiasm surrounding this listing indicate a promising future for the token and the community, as more individuals recognize the potential value and opportunities associated with LUFFYG5TOKEN listed on CetoEX.
Read This : Cetoex Made Easy 8-Step Guide to Buying Crypto.
Amplifying Liquidity
The collaboration between LUFFYG5TOKEN and CetoEX serves to amplify liquidity within the cryptocurrency market, offering a secure and stable trading environment for investors. With LUFFYG5TOKEN listed on CetoEX, the potential for increased market participation and improved liquidity creates a favorable landscape for traders looking to explore and invest in digital assets.
Seizing the Potential of LUFFYG5TOKEN
For cryptocurrency enthusiasts and traders seeking to diversify their portfolios, the listing of LUFFYG5TOKEN on CetoEX presents a unique opportunity for growth and investment. The active trading of the LFG/USDT pair provides an avenue for investors to leverage the market dynamics and maximize the potential benefits associated with LUFFYG5TOKEN listed on CetoEX.
In conclusion, the listing of LUFFYG5TOKEN on CetoEX represents a significant milestone in the journey of this cryptocurrency. With the LFG/USDT pair now actively tradable on the platform, investors and traders have a valuable opportunity to engage with the vibrant cryptocurrency market and explore the potential benefits associated with LUFFYG5TOKEN listed on CetoEX. As the cryptocurrency landscape continues to evolve, staying informed and making informed decisions will be crucial for those seeking to make the most of the opportunities presented by this dynamic market.
Social Media