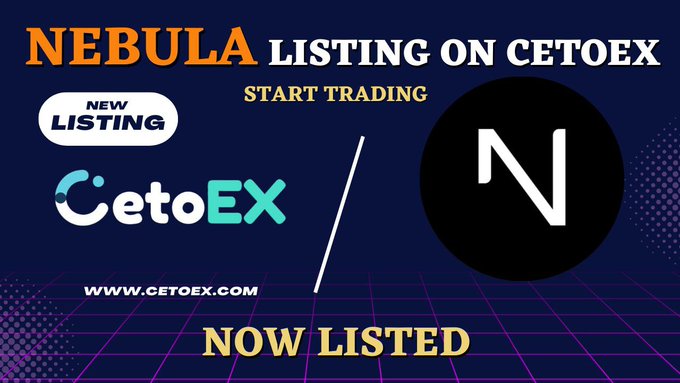 If you keep a close eye on the cryptocurrency industry, you may have heard about the Nebula Project's recent buzz. Investors and fans alike have shown interest in this initiative, and for good cause. Curiosity and interest in the crypto community have increased since the announcement of its listing on CetoEX. Let's explore the interesting Nebula Project environment and see what it has to offer.
Table of Contents
Nebula Project: Unveiling the Cosmic Potential
Securing a listing on the famous CetoEX platform is a crucial milestone for The Nebula, which is identified by the ticker symbol NBLA. But what precisely does the Nebula involve?
Imagine a location where creativity, innovation, and blockchain technology all come together to form a distinctive ecosystem. That is the Nebula's fundamental idea. Nebula intends to close the gap between the cryptosphere and practical use cases by offering a platform for decentralized apps and services.
Read This : Cetoex Made Easy 8-Step Guide to Buying Crypto.
NBLA/USDT Trading Pair: Exploring the Possibilities
The NBLA/USDT trading pair is introduced by the listing on CetoEX, providing traders with intriguing new trading options. As the native token of the Nebula Project, NBLA powers its whole ecosystem. Users may access and trade NBLA against the reliable USDT with ease thanks to its incorporation with the CetoEX exchange.
Deposit and Trading: Seamless Experience for Users
The user interface for The Nebula Project's listing on CetoEX is flawless. Users may interact with the project easily since it is simple to deposit NBLA and start trading. This action is consistent with Nebula's dedication to encouraging accessibility and inclusivity in the cryptocurrency industry.
Nebula Army: Building a Thriving Community
The vitality of a project's community frequently determines how successful it is. The Nebula Project is made up of dedicated people that firmly believe in the project's mission, known collectively as the Nebula Army. This community-driven strategy promotes involvement and cooperation in addition to helping the project flourish.
The Future of Nebula Project: Beyond the Listing
The Nebula Project has reached a big milestone with its listing on CetoEX, but its journey is only getting started. The cryptocurrency community can look forward to more breakthroughs, collaborations, and innovations from Nebula as the project continues to take shape and execute its strategy.
In conclusion, the CetoEX listing of the Nebula Project has generated enthusiasm in the cryptocurrency community. Investors and fans have the chance to be a part of a thriving ecosystem that merges innovation and blockchain technology as the project's cosmic potential takes center stage. Now that the NBLA/USDT trading pair is operational on CetoEX, the Nebula Project has officially set off on its interstellar journey.
Follow us on Social Media and keep Reading Us