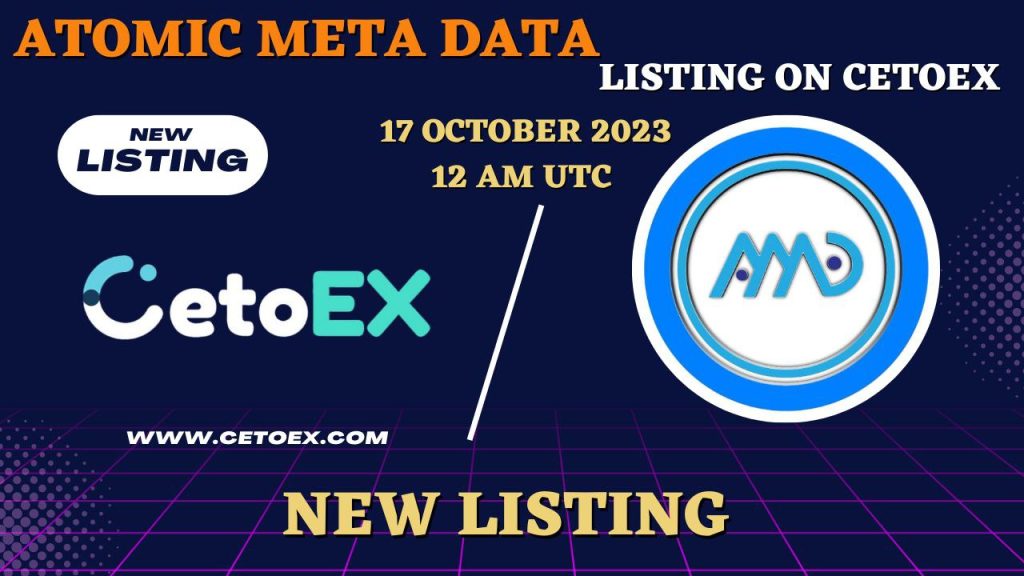 Atomic Meta Data on CetoEX: With its most recent listing of the much awaited Atomic Meta Data (AMD), CetoEX, the cutting-edge cryptocurrency exchange, has garnered attention in the online financial community once again. The announcement has sparked a wave of passion within the ever-expanding #atomicmetadataarmy and sent shockwaves of excitement across the crypto community.
Table of Contents
Key Listing Details of Atomic Meta Data
The much anticipated Atomic Meta Data cryptocurrency will be linked with USDT, which is anticipated to create a wide range of trading opportunities for both investors and traders. The strength and dependability of the US dollar will support this strategic combination of Atomic Meta Data and USDT, which is expected to provide a steady trading environment.
Date to Mark on Your Calendar
Here are the key details you need to mark on your calendar:
Pair: AMD/USDT
Deposit: 14:00 on October 17, 2023 (UTC)
Trading: 14:00 on October 17, 2023 (UTC)
The Significance of CetoEX
The decision to list on CetoEX has drawn considerable attention, highlighting the exchange's expanding reputation as a center for cutting-edge cryptocurrencies. CetoEX has swiftly established itself as a go-to platform for both experienced traders and newbies to the cryptocurrency field because to an emphasis on security, user experience, and a broad choice of traded assets.
Read This : Cetoex Made Easy 8-Step Guide to Buying Crypto.
Community Buzz and Market Impact
The announcement has created a flurry of conversations among cryptocurrency fans, who are keenly watching any potential market effects of the Atomic Meta Data listing. The event is anticipated to spark a rise in interest in both the AMD token and the CetoEX platform thanks to the supportive #atomicmetadata community.
Stay Tuned for Updates
Investors and enthusiasts are anxiously anticipating the start of trading, ready to plunge into the world of Atomic Meta Data and take advantage of the potential made available by its integration with CetoEX. Excitement and expectation are increasing as the time to the listing gets closer, indicating the possibility of a significant change in the trading environment for digital assets.
Conclusion
Keep checking back for more information and analysis on the most recent advancements regarding the Atomic Meta Data listing on CetoEX. Make sure to mark your calendars and get ready to participate in this important development in the bitcoin trading industry. Don't pass up the opportunity to ride the wave of this historic listing on one of the market's most reliable exchanges!
Remember to follow @atomicmetadata and #CETOEX's official handles for all the most recent information and news surrounding AMD and CetoEX. The #atomicmetadataarmy is in for some exciting times, so get ready for an exciting voyage into the world of atomic meta data on CetoEX!
Social Media