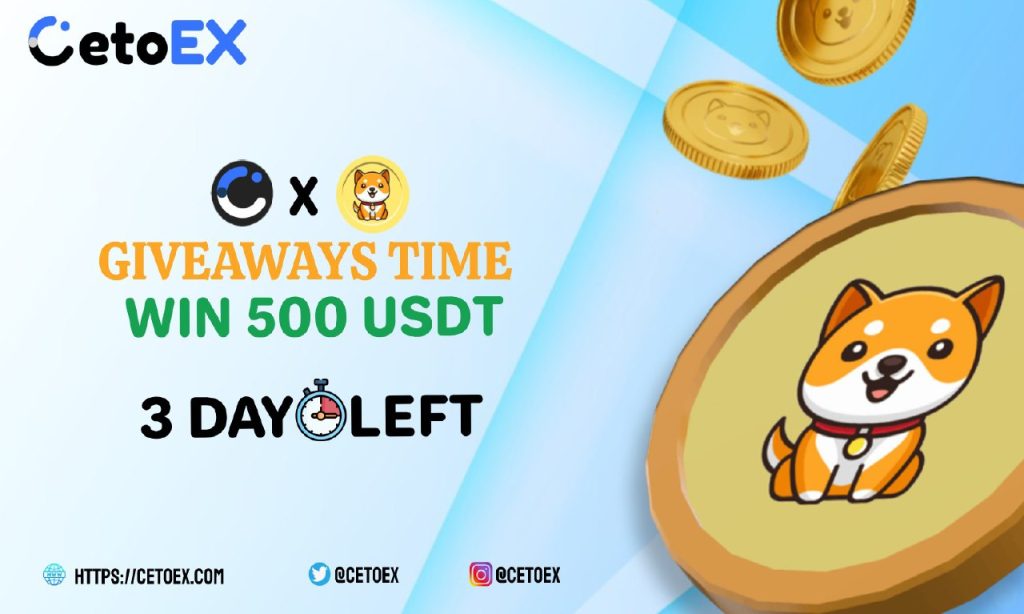 BabyDogeCoin Giveaway : Are you prepared to start your cryptocurrency journey with a jolt of enthusiasm? Hold on tight because CetoEX and @BabyDogeCoin are collaborating on a dazzling giveaway that is sure to ignite the cryptocurrency market. Prepare to participate in the action as we introduce the BabyDogeCoin Giveaway, your opportunity to win big and become a part of a vibrant community. This is a chance you won't want to pass up, as ten winners will get $50 in USDT apiece.
Table of Contents
Why the BabydogeCoin Giveaway?
For our community, we at CetoEX strive to provide unique experiences. The DogeCoin Giveaway demonstrates our dedication to provide you with exciting new prospects in the cryptocurrency industry. By working together with @BabyDogeCoin, we are able to provide you the opportunity to take part in an ever-expanding ecosystem and win significant prizes.
How to Participate :
Participating in the BabyDogeCoin Giveaway is as simple as it gets. Here's how you can join the excitement:
Follow: Ensure you're following @Cetoex, @BabyDogeCoin, and @BabyDogeSwap on Twitter to stay in the loop.
Engage: Like and retweet the giveaway post to spread the word and let others join in on the fun.
Tag Friends: Tag three of your friends who share your passion for cryptocurrencies and would love to be a part of the #BabyDogeArmy.
Comment: Comment on the giveaway post using the hashtag #BabyDogeArmy to complete your entry.
Read This : Cetoex Made Easy 8-Step Guide to Buying Crypto.
By following these simple steps, you'll not only be entering the BabyDogeCoin Giveaway but also becoming a proud member of the #BabyDogeArmy community.
Countdown to Excitement:
The BabyDogeCoin Giveaway is now active and taking place! Don't wait too long, though; the promotion will finish in 3 days. Watch out for updates and winning announcements on our social media platforms.
CetoEX: Your Gateway to the Crypto World
CetoEX is a platform where possibilities and innovation intersect, not merely a cryptocurrency exchange. Both seasoned traders and eager beginners turn to us because of our commitment to offering a simple and safe trading experience.
A Powerful Partnership: BabyDogeCoin Partnership with cetoex
This contest is about community and cooperation as well as incentives. By partnering with @BabyDogeCoin, Cetoex is demonstrating our commitment to enabling cryptocurrency enthusiasts and building a thriving community for everybody. Together, one gift at a time, we're altering the future of digital assets.
Get Ready to Win:
Don't pass up the opportunity to participate in the BabyDogeCoin Giveaway, an amazing partnership between Cetoex and @BabyDogeCoin. As we honor the #BabyDogeArmy, follow the instructions, interact with the community, and be ready to let your excitement out. The BabyDogeCoin Giveaway is your golden ticket to the wonders that the world of cryptocurrency has to offer.
Join the BabyDogeCoin Giveaway Today and Embrace the Thrill!
Your chance to shine is now. Enter the realm of infinite possibilities by taking part in the BabyDogeCoin Giveaway right now. You may be one of the fortunate winners who earn $50 in USDT, courtesy of Cetoex and @BabyDogeCoin, with only a few clicks. As time runs out and the offer expires in only three days, don't let this chance pass you by.
CetoEX is a platform that is driven by the community and is committed to empowering and rewarding its members. Our dedication to promoting collaboration and spreading the enthusiasm of the cryptocurrency industry to all fans is demonstrated by our relationship with @BabyDogeCoin.
Are you prepared to begin? Take the above-described easy steps to start your memorable trip with the #BabyDogeArmy. Take part right now to enter, and let the festivities start!
Social Media