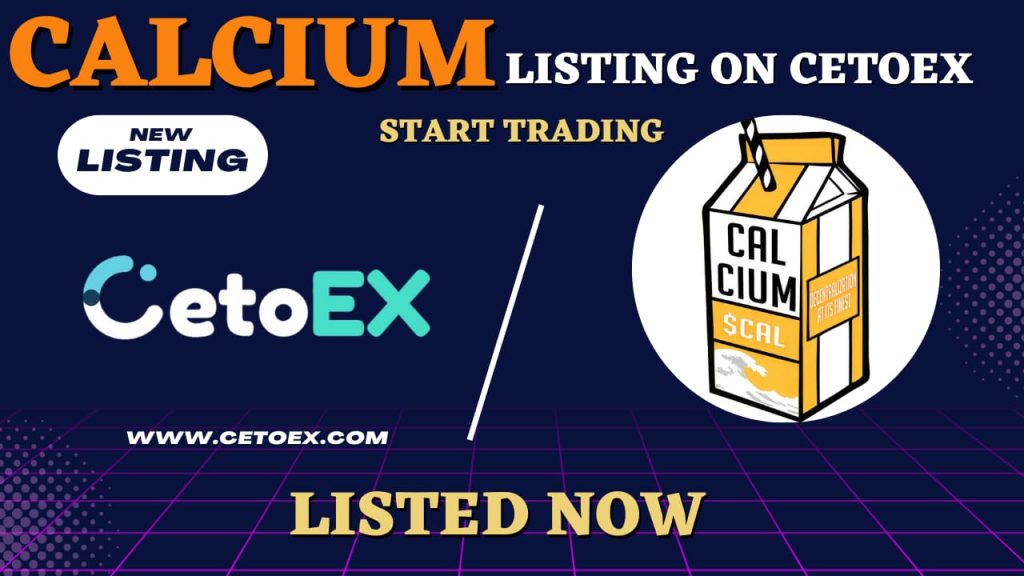 Exciting news in the world of cryptocurrency! Calcium listed on CetoEX exchange, and crypto enthusiasts are buzzing with anticipation. In this blog, we'll delve into the details of this new listing, the trading pair available, and how you can start trading CAL tokens right away.
Table of Contents
Calcium listed on CetoEX: The Inside Scoop
Here's everything you need to know about Calcium listed on CetoEX:
1. Pair: CAL / USDT
The trading pair for CAL on CetoEX is CAL/USDT, which means you can trade Calcium tokens against the stablecoin USDT. This pairing offers a secure and dependable option for traders, ensuring minimal volatility during transactions.
2. Deposit: Now Open
The gates to CAL deposits have officially swung open at CetoEX. You can easily transfer your CAL tokens to your CetoEX wallet, priming yourself for the exciting trading opportunities that await. Early deposit access allows you to get ahead of the curve and be ready for action.
3. Trading: Start
The moment you've been waiting for is here! Trading for CAL on CetoEX has commenced. You can jump into the market, buy and sell CAL tokens, and potentially profit from market fluctuations and promising trading prospects.
Why Choose CAL on CetoEX?
CetoEX is a reputable cryptocurrency exchange that boasts a user-friendly interface and an extensive array of trading pairs. By selecting CetoEX for your CAL trading endeavors, you can benefit from:
Robust Security: CetoEX prioritizes the security of your assets and personal information, employing strong measures to keep your investments safe.
Liquidity: With the CAL/USDT trading pair, you'll enjoy access to a liquid market, making it easy to enter and exit positions swiftly and efficiently.
User-Friendly Interface: CetoEX offers an intuitive platform that caters to traders of all levels, from novices to experts.
Read This : Cetoex Made Easy 8-Step Guide to Buying Crypto.
What Makes CAL Stand Out?
CAL isn't your typical cryptocurrency; it brings unique features and value to the table:
Active Community: CAL boasts an engaged community, often referred to as the "Calcium Army." This dedicated group actively supports and participates in the project's growth.
Utility: CAL extends beyond speculative trading, offering utility within its ecosystem. This feature has the potential to enhance its long-term sustainability and value.
Cutting-Edge Technology: The CAL development team continually pushes the boundaries of innovation, introducing cutting-edge technologies that set it apart in the crypto landscape.
Join the Calcium Community Today!
As Calcium listed on CetoEX, this is a golden opportunity to explore this unique cryptocurrency project. Whether you're a seasoned trader or just starting, CAL offers distinctive possibilities within the cryptocurrency space. Join the Calcium community and begin trading on CetoEX today to seize the latest addition to the world of digital assets. Don't miss your chance to be a part of the CalciumBNB revolution! 🚀🔬 this is all about Calcium listed on CetoEX.
Remember, cryptocurrency trading involves inherent risks, so it's essential to conduct thorough research and assess your risk tolerance before diving in. Happy trading! #calcium #calciumarmy #CETOEX
Social Media