Cetoex News – According to crypto analysis firm Santiment, Chainlink's (LINK) developing contributors have reached an all-time high. Moreover, the firm noted that the project's negative trend since March seems to be slowing down. However, not everything seems to be pointing in the right direction for LINK.
Although the negative trends seem to be slowing down, Chainlink's (LINK) daily active addresses are almost "stationary." Santiment highlighted the project's stagnant network growth to support this claim.

In the price department, LINK has fallen from $8.57 on April 19 to $6.60 at press time. The drop represented a fall of 22.99% in less than a month. Santiment noted that almost all holders are currently sitting at a loss. This argument is also supported by data from IntoTheBlock, which stated that 77% of LINK holders are at a loss. Only 19% of LINK holders are currently at a profit. Therefore, selling right now would incur a big loss for holders. As per the data on Etherscan.io, the total number of LINK holders stands at 651,782, up by 0.005%.
Will Chainlink's fate change anytime soon?
The only positive metric for LINK at the moment is its development activity. According to Santiment, the constant activity of developers is something investors should pay close attention to. Development on LINK seems to have been steadily increasing over time, currently at the highest levels.

Development is a solid metric to evaluate the long-term potential of a project. Therefore, Chainlink (LINK) seems to have that box checked. Moreover, the current financial outlook for the world is still poor. We are still on the leash of a bear market and are yet to overcome post-pandemic woes and the market crash of 2022. Hence, there is a potential for LINK to break out of its current slump.
LINK is currently facing resistance at $6.725, with support at $6.479. The asset's price seems to be consolidating at current levels in the 4-hour chart. At press time, LINK was trading at $6.571, down by 1% in the last 24 hours.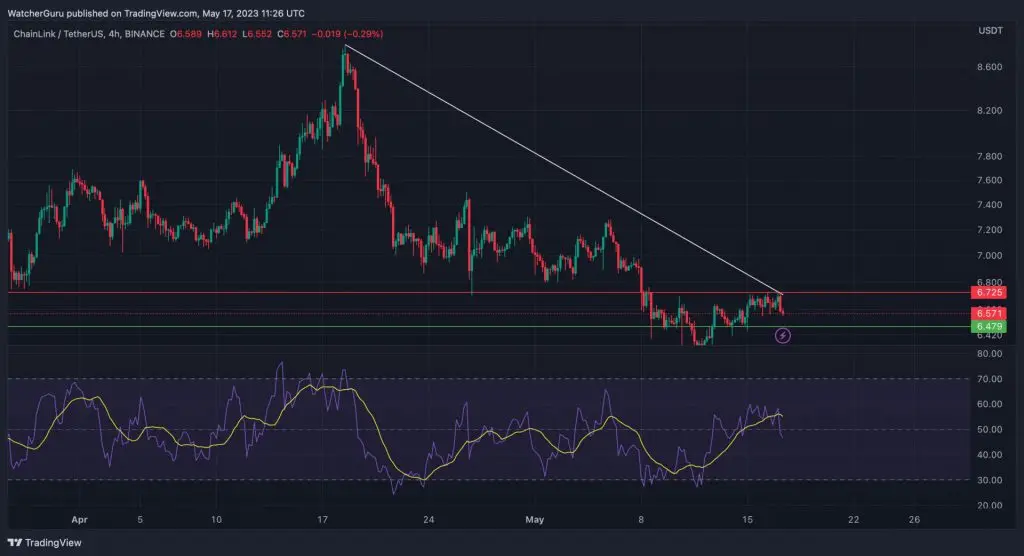 NEWS BY – CETOEX NEWS