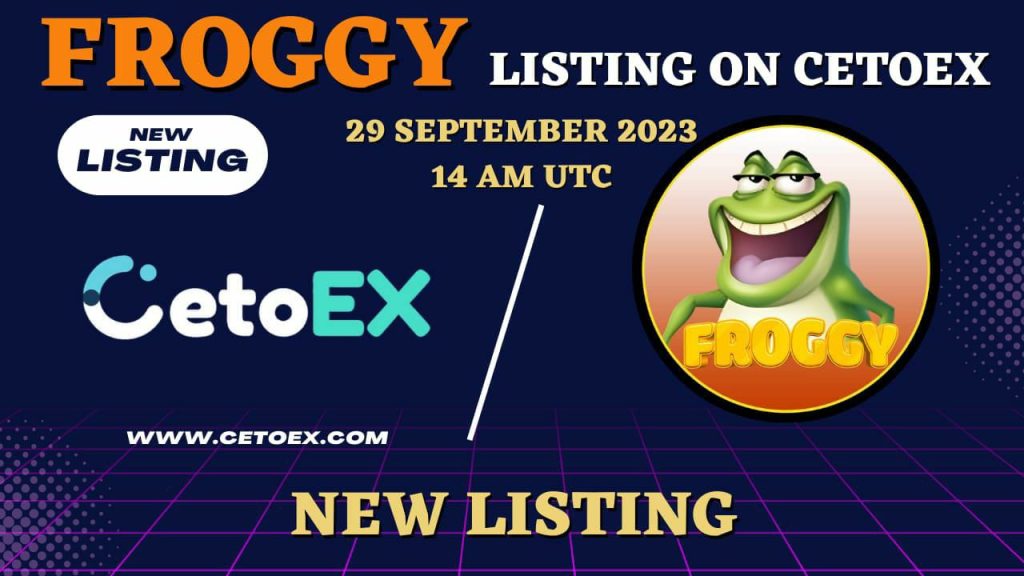 The announcement that (FROGGY) Froggy listed on CetoEX has the cryptocurrency community in a frenzy! The time is now to learn more about this exciting newcomer to the cryptocurrency market if you want to ride the wave of this new digital asset.
Table of Contents
FROGGY Listed on CetoEX!
In the world of cryptocurrencies, FROGGY is making waves, and its latest listing on CetoEX has further fueled the fire. Everything you need to know about this fascinating breakthrough is provided below:
1. Pair: FROGGY / USDT
FROGGY/USDT is the trading pair that is accessible on CetoEX. After FROGGY Listed on CetoEX! As a result, you can exchange FROGGY tokens for stablecoin USDT, offering a secure and dependable trading solution.
2. Deposit: Now Open
For FROGGY deposits, CetoEX has already opened the floodgates. Transferring your FROGGY tokens to your CetoEX wallet will let you to get ready for the upcoming trade activity. With the early deposit option, you can enter the market first.
3. Trading: Start
The most anticipated time has here! On CetoEX, trading for FROGGY is now live. Now that you can purchase and sell FROGGY tokens, you might perhaps profit from market changes and exciting trading opportunities.
Read This : Cetoex Made Easy 8-Step Guide to Buying Crypto.
What Makes FROGGY Unique?
FROGGY is not just another cryptocurrency; it comes with its own unique features and value propositions. Here are a few aspects that make FROGGY stand out:
Community-Driven: FROGGY has a strong and supportive community that is actively involved in the project's development and promotion. This community-driven approach can lead to exciting developments and innovations.
Utility: FROGGY isn't just a speculative asset. It offers utility within its ecosystem, which can enhance its long-term sustainability and value.
Innovative Technology: The FROGGY team has worked hard to develop innovative technologies that set it apart from other cryptocurrencies. Keep an eye out for upcoming updates and developments.
Why Trade FROGGY on CetoEX?
A trustworthy cryptocurrency exchange with a large selection of trading pairs and a user-friendly interface is CetoEX. Trading FROGGY on CetoEX offers the following advantages:
Security: CetoEX employs robust security measures to protect your assets and personal information.
Liquidity: With the FROGGY/USDT pair, you'll have access to a liquid market, ensuring you can enter and exit positions with ease.
User-Friendly Interface: CetoEX offers a beginner-friendly platform, making it ideal for both novice and experienced traders.
Finally FROGGY Listed on CetoEX, the FROGGY listing on CetoEX is a noteworthy step in the cryptocurrency world. Now that deposits are open and the FROGGY/USDT trading pair is available, now is the ideal time to learn more about this unusual cryptocurrency project. To take full advantage of this exciting development in the crypto world, join the FROGGY community and begin trading on CetoEX right away. Don't pass up the opportunity to board the FROGGY train! It Was Everything About FROGGY Listed on CetoEX For More Keep In Our Touch.
Do not forget that trading cryptocurrency can be risky even though it might be profitable. Before entering the world of cryptocurrency trading, it is crucial to conduct research and think about your risk tolerance. Cheers to trading!
Social Media