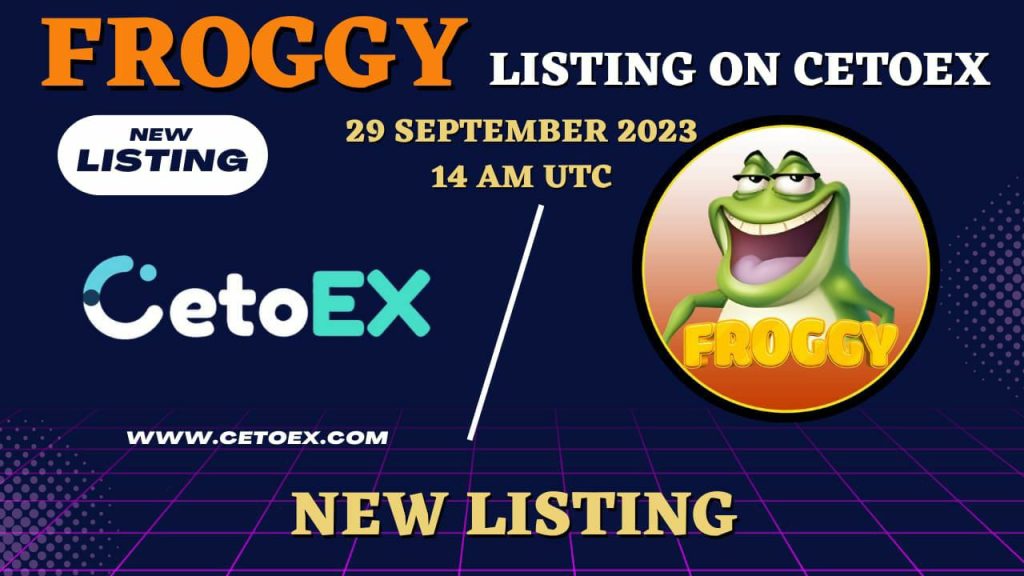 Froggy Army followers and cryptocurrency aficionados, we have some exciting news to share! The well-known cryptocurrency FROGGY listed on CetoEX, giving investors access to a vast array of trading possibilities. We'll get into the specifics of this new listing and what it means for the Froggy community in this blog article.
Table of Contents
FROGGY Listing Details:
FROGGY has found its new home on CetoEX, and it's paired with the widely-used USDT (Tether). This pairing allows traders to easily exchange FROGGY for USDT and vice versa, adding liquidity and accessibility to the Froggy token.
Here are the key details you need to know about the FROGGY listing on CetoEX:
Pair: FROGGY / USDT
Deposit: The deposit feature will be available starting at 14:00 on September 29, 2023 (UTC).
Trading: The trading of FROGGY against USDT will commence at 14:00 on September 29, 2023 (UTC).
New opportunities are presented by this listing for both investors and traders. CetoEX offers a safe and user-friendly platform for you to buy, sell, and trade FROGGY tokens, whether you've been a longtime supporter of the project or are just learning about it now and excited by its potential.
Why FROGGY Matters:
Due to its distinctive qualities and vibrant community, FROGGY has amassed a devoted following known as the Froggy Army. The Froggy Army can grow even more and draw in new members who want to be a part of a lively community thanks to this FROGGY listed on CetoEX.
In recent months, the FROGGY coin has experienced substantial growth and attention, making it a notable addition to the CetoEX exchange. Traders can benefit from this listing to diversify their portfolios and learn more about FROGGY's prospects.
Read This : Cetoex Made Easy 8-Step Guide to Buying Crypto.
How to Get Started:
If you're eager to join the Froggy Army and start trading FROGGY on CetoEX, here's a simple guide to get you started:
Create an Account: If you don't already have one, sign up for an account on CetoEX.
Deposit Funds: Deposit your preferred cryptocurrency or fiat currency into your CetoEX wallet.
Find the FROGGY / USDT Pair: Navigate to the trading pairs section and search for "FROGGY / USDT."
Start Trading: Place your buy or sell orders and take advantage of the exciting opportunities that FROGGY offers.
Join the Froggy Community Today: FROGGY listed on Cetoex 🐸🚀
FROGGY listed on CetoEX marks a significant milestone for the Froggy Army and the cryptocurrency community as a whole. With its unique features and strong community support, FROGGY is poised for further growth and success.
So, what are you waiting for? Join the Froggy Army today and explore the trading potential of FROGGY on CetoEX. Don't miss out on this exciting opportunity to be part of a dynamic crypto community and trade FROGGY to your heart's content!
Remember, the deposit and trading for FROGGY on CetoEX starts at 14:00 on September 29, 2023 (UTC). Get ready to make your move and hop on the FROGGY train! FROGGY listed on Cetoex 🐸🚀
Social Media