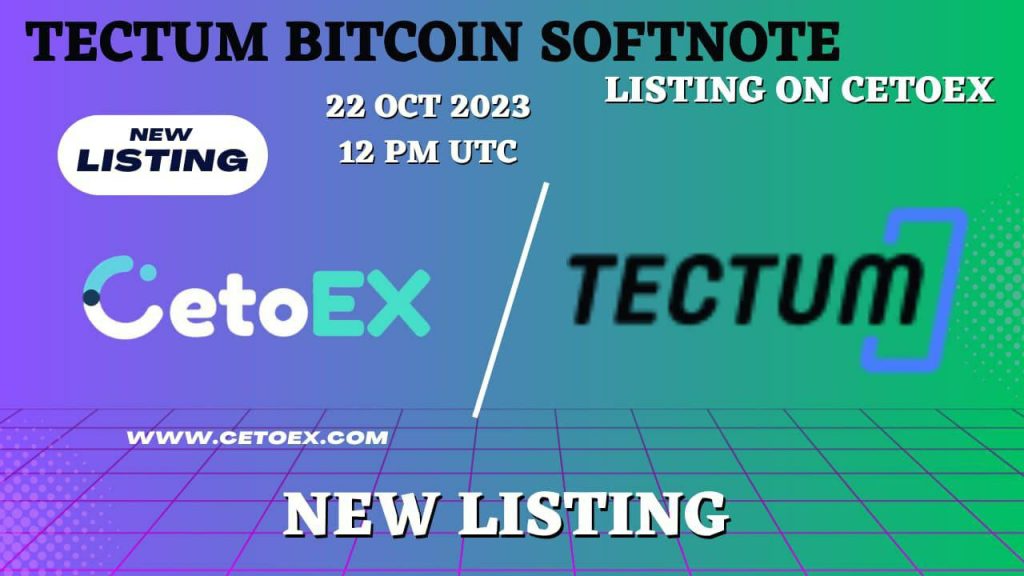 Exciting opportunities can appear at any time in the dynamic world of cryptocurrency. On October 22, 2023, TECTUM BITCOIN SOFTNOTE is listed on CetoEX, so get ready for a revolutionary change. The landscape for cryptocurrency lovers and investors is about to change as a result of this momentous occurrence. We'll explore the benefits, importance, and justifications for you to pay attention to TECTUM BITCOIN SOFTNOTE's listed on CetoEX in this blog post.
Table of Contents
The Power of TECTUM BITCOIN SOFTNOTE
Let's first examine what makes TECTUM BITCOIN SOFTNOTE (BTCsn) unique before delving into the details of this listing. BTCsn is a digital gem known for its cutting-edge technologies and strong community support. It is one of the most eagerly anticipated listings on CetoEX due to its distinctive features, which have drawn the attention of crypto enthusiasts.
Key Benefits of TECTUM BITCOIN SOFTNOTE on CetoEX
Liquidity and Stability: The pairing of BTCsn with USDT on CetoEX provides a stable and liquid trading environment, making it an appealing choice for traders. This pairing ensures a smooth trading experience.
Community Growth: With this listing, TECTUM BITCOIN SOFTNOTE gains access to a broader audience, fostering community growth and collaboration. The support of the crypto community is a driving force behind BTCsn's success.
Innovation and Development: TECTUM BITCOIN SOFTNOTE's development team is committed to continuous improvement. The listing on CetoEX offers the platform for further innovation and development, enhancing the cryptocurrency's capabilities.
Global Exposure: Being listed on a reputable exchange like CetoEX increases TECTUM BITCOIN SOFTNOTE's global exposure. This exposure can attract new investors and traders, driving up demand and potentially increasing its value.
Diversification: Investors are always seeking diversification opportunities. With the addition of BTCsn on CetoEX, you can diversify your crypto portfolio and reduce risk.
Read This : Cetoex Made Easy 8-Step Guide to Buying Crypto.
October 22, 2023: A Date to Remember!
The listing of TECTUM on CetoEX is more than simply another milestone in the cryptocurrency world; it represents development, innovation, and limitless potential. Make a note of October 22, 2023 on your calendar since it marks the start of a new era for cryptocurrency trading. Don't pass up the opportunity to take part in this momentous occasion.
Why TECTUM BITCOIN SOFTNOTE on CetoEX Matters
This listing provides evidence of how the bitcoin market is always changing. It highlights the continuous development and uptake of digital assets and is a step in the right direction. With more alternatives and chances available to traders and investors thanks to TECTUM listed on CetoEX, the cryptocurrency ecosystem is strengthened.
Conclusion: Seize the Opportunity!
In conclusion, the listing of TECTUM on CetoEX is a significant development that will have a positive impact on the crypto world. In one potent digital asset, it promises liquidity, stability, growth, and innovation. Set a reminder for October 22, 2023, and take advantage of the chance to participate in the development of cryptocurrency trading. You don't want to miss the power that TECTUM BITCOIN SOFTNOTE is about to unleash on CetoEX. Use BTCsn to embrace the fascinating world of cryptocurrencies, invest sensibly, and remain informed.
Social Media