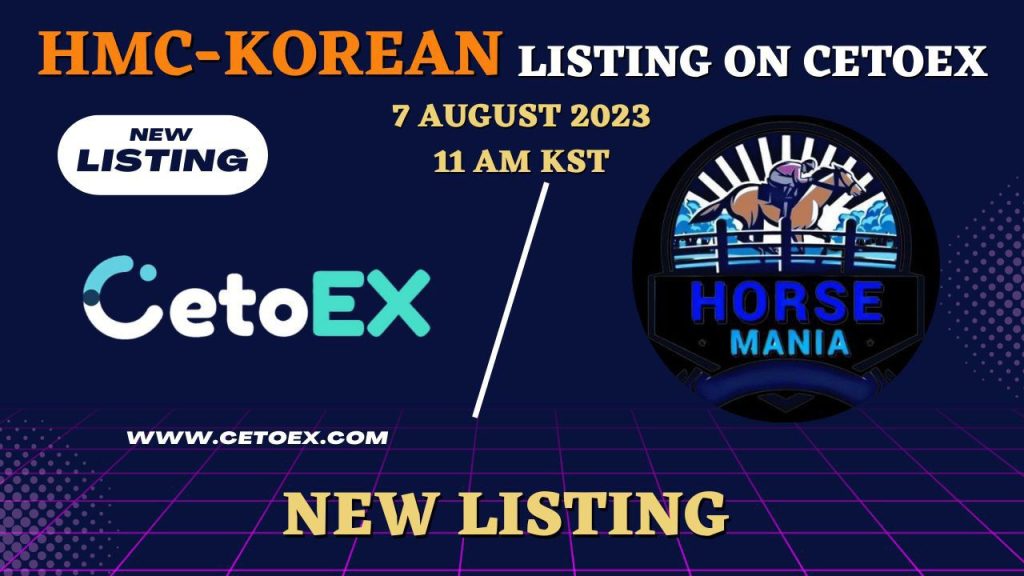 Trade HMC/USDT Pair Starting August 7, 2023
Welcome to Cetoex the world of cryptocurrencies, my fellow cryptocurrency fans! Horsemania49972 is the newest addition to CetoEX's constantly growing portfolio, and the company is happy to introduce it. We are your go-to source for the latest CetoEX news, and we've compiled a list of 12 strong arguments for why you should rejoice over this listing. We'll go into all the pertinent information regarding the HMC listing and how you may take advantage of the chance to trade the HMC/USDT pair in this in-depth blog post. Therefore, buckle up and let's start this thrilling ride with us.
Table of Contents
1. Listing Details:
📢 New Listing: @Horsemania49972 (HMC) Gets Listed on #CetoEX!
💎 Pair: HMC/USDT
💎 Deposit: 11:00 on August 7, 2023 (KST)
💎 Trading: 11:00 on August 7, 2023 (KST)
2. Introducing Horsemania49972 (HMC): Unleashing the Potential:
The fascinating world of equestrian sports and cutting-edge blockchain technology are combined by Horsemania49972. The equestrian sector is expected to undergo a transformation thanks to this innovative combination, opening up new potential for investors and lovers alike.
3. CetoEX: Your Gateway to Crypto:
Exchange is your entryway into the world of cryptocurrencies and is more than simply an exchange. We enable you to explore, invest, and trade with confidence by providing a user-friendly interface, first-rate security standards, and a wide range of trading pairings.
4. Diverse Trading Pairs:
With the addition of HMC to our platform, we expand the options available to traders by providing a wide variety of trading pairs to satisfy all types of investment requirements. Easily diversify your portfolio and find new options.
5. Cutting-Edge Security:
Your assets' security is our first priority at CetoEX. You may trade with confidence knowing that your money is secure thanks to effective security measures.
Read This : Cetoex Made Easy 8-Step Guide to Buying Crypto.
6. Unveiling the Potential:
The HMC listing on CetoEX bridges the gap between blockchain technology and equestrian sports, opening up a world of opportunity. Prepare to delve into this amazing project's enticing potential.
7. A Stepping Stone to Innovation:
As we bring HMC to our community, we reaffirm our dedication to assisting creative initiatives that advance the cryptocurrency industry.
8. HMC/USDT Trading Pair:
Your calendar should be marked with August 7, 2023, the day you may trade the HMC/USDT pair on Exchange. Be ready for the market to open for trade at 11:00 KST.
9. Seamless Trading Experience:
Trade with ease on CetoEX and take advantage of our easy-to-use platform that is optimized for your trading adventure.
10. HMC Deposits:
Deposits for HMC will be authorized on August 7, 2023, at 11:00 KST, so get ready with your HMC tokens.
11. An Opportunity for All:
Anyone may take part in this fascinating initiative thanks to the listing of HMC on The Exchange, regardless of whether they are an avid horse fan or a seasoned cryptocurrency trader.
12. Embrace the Potential:
As HMC gallops into the realm of cryptocurrency, embrace its possibilities. Keep checking The Exchange – your source for fascinating CetoEX news – for additional updates and postings!
13. Start Trading Today:
Don't miss out on this exceptional opportunity! The HMC listing is already live on Exchange, and trading has commenced. Whether you're an equestrian enthusiast or a seasoned trader, HMC presents a world of opportunities worth exploring.