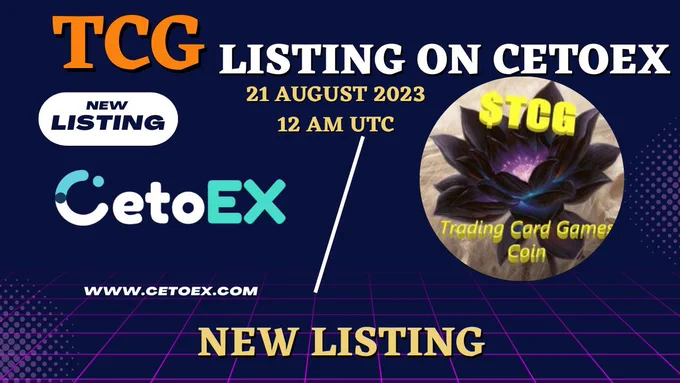 The much awaited time has finally arrived, and the Bitcoin world is buzzing once more. Hold on tight because @TCGCOIN_APP (TCG), with its official listing on the prestigious #CetoEX platform, is about to take center stage. Prepare yourself for an intriguing adventure as we explore the specifics of this noteworthy event that is causing consternation in the cryptosphere.'
Table of Contents
Exploring TCGCOIN: Unveiling a New Gem
The ticker TCG, which stands for TCGCOIN, is creating waves with its distinctive presence and bright future. Both investors and aficionados will have the chance to see the birth of a new era when the curtain opens on its listing. COIN is more than just another token; with a goal of bringing innovation, usefulness, and value to the cryptocurrency ecosystem, it represents growth and potential.
TCG/USDT Pair: Your Gateway to Possibilities
With the introduction of the TCG/USDT trading pair on #CetoEX, traders now have a new and interesting opportunity to explore the possibilities of COIN. Through smooth trading made possible by this combination, consumers may profit from market changes and take wise judgments. The TCG/USDT combination provides a seductive chance to interact with TCGCOIN, regardless of whether you are an experienced trader or a novice wishing to dip your toes into the crypto waters.
Mark Your Calendars: Key Dates to Remember
Excitement is building, and it's essential to mark your calendars for the significant dates that lie ahead:
Deposit Start: August 21, 2023, at 11:00 AM (UTC)
Trading Start: August 21, 2023, at 12:00 PM (UTC)
Prepare yourself for a thrilling trading experience as COIN enters the trading arena on #CetoEX. The deposit and trading windows present the perfect opportunity to engage with TCGCOIN early and make the most of its market debut.
CetoEX: A Gateway to Exceptional Opportunities
The significance of #CetoEX cannot be overstated. As a distinguished platform in the crypto realm, #CetoEX consistently showcases exceptional tokens, providing traders with a diverse and dynamic ecosystem. Its commitment to security, liquidity, and user-centric design sets the stage for seamless trading experiences. With #CetoEX as the backdrop, TCGCOIN's debut takes on even greater significance, promising a pathway to prosperity for those who dare to explore its potential.
Join the TCG Army: A Community United
TCGCOIN is a movement, not simply a token. Be a part of a thriving community with a shared vision by joining the TCG Army, which is constantly expanding. The spirit of cooperation, fervor, and excitement that TCGCOIN supporters bring to the table is embodied by the hashtag #TCGARMY. By signing up for the TCG Army, you play an active role in the development and growth of TCGCOIN.
Read This : Cetoex Made Easy 8-Step Guide to Buying Crypto.
The CetoEX Advantage: Your Trusted Partner
CetoEX serves as a showcase for innovation and quality, offering a venue where forward-thinking initiatives like TCGCOIN may find their proper home. When you select #CetoEX, you decide on:
Diverse Listings: #CetoEX constantly expands its list of great coins, maintaining a vibrant trading environment.
Security: #CetoEX takes strong precautions to protect your assets since your security is of the utmost importance.
Deep liquidity pools provide seamless trading, especially when there is a lot of demand.
User-Centric Interface: The platform was created with you in mind, taking both new and seasoned traders into consideration.
Conclusion: Use TCGCOIN to embrace the future.
An exciting new chapter in the history of cryptocurrencies has begun with the listing of @TCGCOIN_APP (TCG) on #CetoEX. You have the opportunity to learn more about the possibilities of TCGCOIN and the #TCGARMY community using the TCG/USDT trading pair. On August 21, 2023, mark your calendars and get ready to start a journey propelled by innovation, value, and opportunity.
Social Media