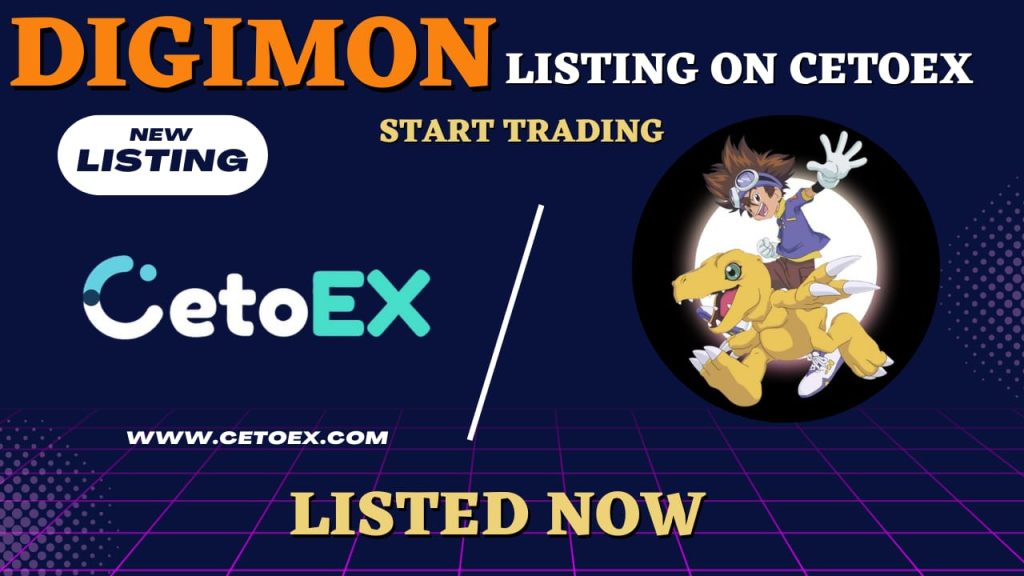 Introduction to DIGIMON on CetoEX
Listing of DIGIMON on CetoEX: The market may see a shockwave as a result of new listings in the fast-paced realm of cryptocurrencies. The recent listing of DIGIMON (DIGIMON) on the prestigious CetoEX exchange is one such seismic occurrence. You will embark on a journey with this blog post to comprehend the significance listing of DIGIMON on CetoEX, its trading pair, and how you may take part in this thrilling opportunity.
Table of Contents
The DIGIMON / USDT Trading Pair
The trading pair DIGIMON / USDT is at the core of the listing of DIGIMON on CetoEX. This pairing gives traders a secure and dependable way to trade DIGIMON while reducing the volatility frequently linked to cryptocurrencies. The way traders handle this digital asset is about to change thanks to the DIGIMON / USDT pair.
Deposits Opened on October 9, 2023, at 14:00 (UTC)
On October 9, 2023, at 14:00 (UTC), deposits accepted, and the voyage of trading DIGIMON on CetoEX will begin. You may get ready and make sure your DIGIMON tokens are ready for trading as soon as the gates open with the help of this important step.
Trading Begins on October 9, 2023, at 14:00 (UTC)
The clock is ticking till action! On October 9, 2023, at 14:00 (UTC), trading for DIGIMON on CetoEX officially begins. This is your chance to become involved in the market, purchase and sell DIGIMON tokens, and perhaps make money off of the shifting market conditions and exciting trading opportunities.
Read This : Cetoex Made Easy 8-Step Guide to Buying Crypto.
Why Choose DIGIMON on CetoEX?
With a user-friendly interface and a wide selection of trading pairings, CetoEX has solidified its reputation as a reliable cryptocurrency exchange. There are various benefits to choosing CetoEX as your platform for trading DIGIMON:
Advanced Security Measures: CetoEX prioritizes the security of your assets and personal information, employing top-notch security measures to safeguard your investments.
Enhanced Liquidity: With the DIGIMON / USDT trading pair, you'll have access to a liquid market, facilitating smooth entry and exit from positions.
User-Friendly Experience: CetoEX offers an intuitive platform suitable for traders of all levels, from beginners to experienced experts.
What Sets DIGIMON Apart?
DIGIMON isn't just another cryptocurrency; it's a unique project with distinguishing features and value propositions:
Active Community Engagement: The "Digimon Army," a dedicated community, actively supports and contributes to the project's growth.
Utility Beyond Trading: DIGIMON offers utility within its ecosystem, potentially enhancing its long-term sustainability and value.
Innovative Technological Advancements: The DIGIMON development team consistently pushes the boundaries of innovation, introducing cutting-edge technologies that set it apart in the crypto sphere.
Join the DIGIMON Community Today!
This is your invitation to learn more about this remarkable cryptocurrency project as DIGIMON takes its position on CetoEX. Whether you're an experienced trader or you're just getting started with cryptocurrencies, DIGIMON offers intriguing chances. On October 9, 2023, at 14:00 (UTC), join the ranks of the Digimon Army and start trading on CetoEX to embrace the newest innovation in the world of digital assets. Don't pass up the opportunity to join the DIGIMON phenomenon!
In conclusion, the listing of DIGIMON on CetoEX represents a significant milestone in the crypto world. This blog has provided a comprehensive overview of what you need to know about this listing, the DIGIMON / USDT trading pair, and the advantages of choosing CetoEX for your DIGIMON trading endeavors. Remember, cryptocurrency trading carries inherent risks, so conducting thorough research and assessing your risk tolerance are essential before engaging in the world of crypto trading. Happy trading! #DIGIMONonCetoEX
Social Media