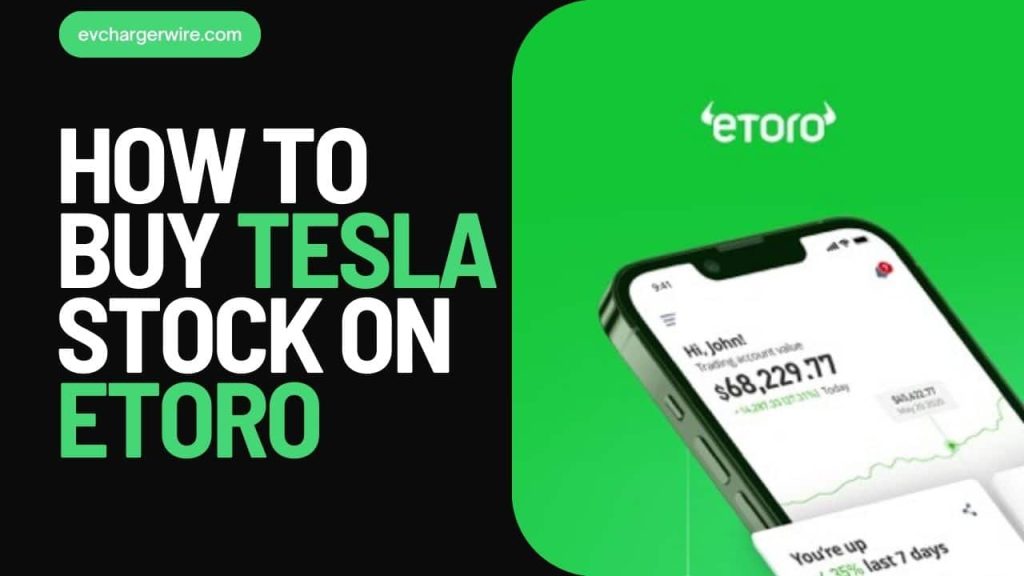 How to buy Tesla Stock on eToro? The expansion of internet trading platforms has increased the accessibility of stock market investing. One such well-liked site is eToro, renowned for its approachable user interface and a variety of investing opportunities. You're at the correct place if you want to purchase Tesla shares on eToro. We'll take you step by step through the procedure in this tutorial while giving you helpful advice so you can choose your investments wisely for how to buy Tesla Stock on eToro.
Table of Contents
How to buy Tesla Stock on eToro?
Step 1: Sign Up and Verify Your Account
Creating an account with eToro is the first step in purchasing Tesla shares there. Click the "Join Now" button on the eToro website or the mobile app to get started. You must enter your email address, choose a password, and accept the terms of service. To protect the security of your account, eToro will need you to finish a verification step after registering.
Step 2: Deposit Funds into Your Account
You must first fund your eToro account in order to begin purchasing Tesla shares. Select your desired payment option by clicking the "Deposit" button, which includes e-wallets, credit/debit cards, and bank transfers. To finish the deposit procedure, adhere to the directions. It's crucial to be aware that eToro has a minimum deposit requirement.
Step 3: Search for Tesla Stock
When you have funded your account, go to the search box and enter "Tesla." The Tesla trading options, comprising the Tesla stock (TSLA) and other pertinent instruments, will be shown on eToro. Choose the strategy that best fits your investing objectives.
Read This : Cetoex Made Easy 8-Step Guide to Buying Crypto.
Step 4: Analyze and Research
Research and analysis must be done thoroughly before making any investments. To reach the detailed page for the Tesla stock, click on it. You may discover useful information here, like current price trends, historical performance data, business news, and industry insights. Take your time to comprehend the tendencies in the stock and its likely future moves.
Step 5: Place Your Order
It's time to place your order after you are certain of your choice. Depending on the form of investment you desire, click either the "Trade" or "Buy" option. Market orders and limit orders are both options. A limit order enables you to designate a price at which you feel comfortable purchasing the stock, whereas a market order purchases the shares at the going rate.
Tips for Successful Investing
Stay Informed: Keep up with the latest news and updates about Tesla and the stock market. Market conditions can change rapidly, affecting stock prices.
Diversify: While investing in Tesla stock might be appealing, consider diversifying your portfolio with a mix of different assets to spread risk.
Set Realistic Goals: Determine your investment goals and risk tolerance. Decide whether you're looking for short-term gains or long-term growth.
In conclusion, using the proper strategy while buying Tesla stock on eToro may be profitable. You'll be better able to make smart investment selections by adhering to these guidelines and maintaining informational awareness. Keep in mind that investing has risks, so only invest money you can afford to lose.
eToro offers a user-friendly platform to begin your financial adventure, regardless of your level of experience. As usual, do extensive research and get advice from financial professionals if necessary. Invest wisely! This is How to buy Tesla Stock on eToro?
How to buy Tesla Stock on eToro?
Investing in Tesla stock on eToro is a straightforward process that can be completed in just a few steps. To begin, you'll need to create an account on the eToro platform if you haven't already. Once your account is set up, you can navigate to the "Trade Markets" section and search for "Tesla" in the search bar.
Click on the result corresponding to Tesla stock, and you'll be presented with an overview of its performance and other relevant information. To proceed with the purchase, click on the "Trade" button, enter the amount you want to invest, and choose your preferred settings. Confirm the trade, and you'll become a proud owner of Tesla stock on eToro. Keep in mind that investing involves risks, and it's essential to do your research and consider your financial situation before making any decisions.This is How to buy Tesla Stock on eToro?
Follow us on Social Media and keep Reading