Cetoex News – Shiba Inu has emerged as one of the most successful and widely adopted cryptocurrency projects. Even though the meme coin ecosystem was seen as negligence initially, Shiba Inu and Dogecoin have surpassed that mere thought.
The SHIB team has been working relentlessly to ramp up its ecosystem. The team launched the Shiba Eternity game, which was a big success, and the community is also anticipating the launch of Shibarium.
Shiba Inu burn has been one of the key developments initiated to reduce the circulating supply of SHIB. Even though the price was evidently rallying recently, with a spike of over 17.29% in the last seven days, the Shiba Inu burn rate has dropped over the last 24 hours, according to details from Shibburn.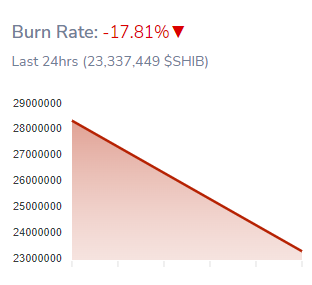 Shiba Inu burn rate drops by 17%
Shibburn website details reveal that the burn rate has dropped by 17.8% in the last 24 hours, with 23.3 million SHIB sent to dead wallets. Two of the major burns happened over two transactions worth 11.8 million and 6.3 million SHIB.
Shiba Inu has maintained a positive streak of Shiba Inu burns since the beginning of 2023, except for a few days. Even though SHIB eliminated a zero from its price in the recent rally, the burn rate hasn't performed well in comparison with the price.
At press time, SHIB is trading at $0.00001049, with a 2.36% gain in value over the last 24 hours. However, the launch of Shibarium is likely to help burn more SHIB, which can provide a boost to the burn rate.
NEWS BY – CETOEX NEWS