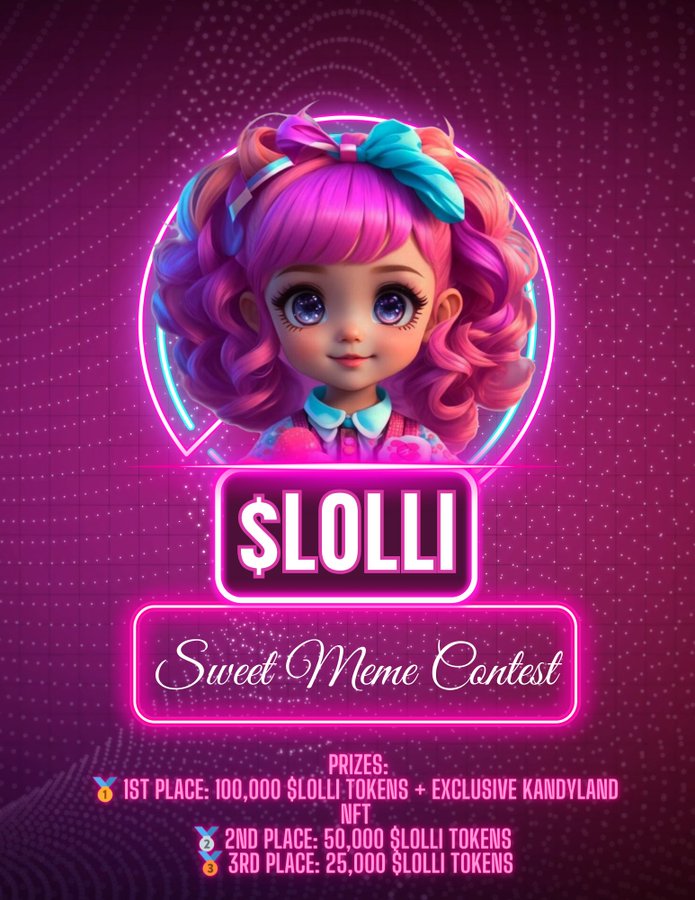 The most recent developments in the realm of Lolli are sure to attract your attention if you're a crypto fan with a flair for comedy and inventiveness. As we explore the specifics of the Lolli Meme Contest and Lolli's latest listed on CetoEX, be ready to enter a world of memes, incentives, and thrilling crypto listings. Both seasoned traders and meme enthusiasts will be intrigued by this exciting fusion of entertainment and money.
Table of Contents
Participate and Win Big with the Lolli Meme Contest
Community involvement is essential in the ever changing crypto ecosystem. What better way to involve the neighborhood is there than to hold a meme competition that honors creativity and originality? The Token team has organized a fun meme competition, encouraging contestants to demonstrate their ability to create memorable memes while honoring Token and its distinctive environment.
To take part in the contest, follow these simple steps:
Create a Memorable Meme: Craft a meme that captures the essence of Lolli's vibrant world. Let your imagination run wild and infuse humor, creativity, and that unmistakable Token charm.
Hashtag It Right: Share your masterpiece on Twitter with the hashtag #LolliMemeContest. This ensures your meme is part of the vibrant online conversation and gets noticed by the community.
Tag and Spread the Fun: Tag @KandyLandErc20 and three friends in your tweet. This helps in spreading the fun and excitement while also expanding the reach of your creative entry.
Unveiling the Prizes
The delectable rewards offered by the Lolli Meme Contest will leave competitors wanting more:
First Place: The winner will get a staggering 100,000 Lolli tokens along with a special KandyLand NFT. The perfect combination of collectibles and digital materials!
Second Place: The second-place winner will take home 50,000 Lolli tokens, giving their cryptocurrency portfolio a sweet touch.
Third Place: A reward of 25,000 Lolli tokens is available for the third-place finisher.
Read This : Cetoex Made Easy 8-Step Guide to Buying Crypto.
Mark Your Calendars
The schedule for the contest is similarly fascinating. The competition runs from to September 1st. On September 5th, winners will be revealed, so be sure to keep an eye out for the thrilling results.
Lolli Makes a Splash on CetoEX
As if the meme competition weren't thrilling enough, Token has advanced further in its development by being listed on CetoEX, an established and user-friendly cryptocurrency exchange. With this listing, traders and investors have additional opportunities to interact with Lolli tokens, exchange them for other well-known cryptocurrencies, and join the Token ecosystem, which is expanding.
Conclusion
Token is undoubtedly making waves in the cryptocurrency industry with the Token Meme Contest and the most recent CetoEX listing. Token offers something in store for everyone, whether you're a talented meme creator or a seasoned trader seeking for interesting chances. Don't pass up the opportunity to take part in the meme competition and learn more about Lolli's trading potential on CetoEX. Because of Lolli, the worlds of humor and money have never been closer.
Prepare to participate in the #LolliKandyLandMemeContest, trade Token tokens on CetoEX, and become a member of a group that understands how to have fun while navigating the complex world of cryptocurrencies.
Something About Cetoex
CetoEX is a vibrant and progressive cryptocurrency exchange that has made a name for itself in the constantly changing world of digital assets. CetoEX provides a platform where traders and investors may access a variety of cryptocurrencies and tokens as part of its dedication to innovation and user experience. The exchange offers both novice and expert traders a user-friendly interface, strong security measures, and a selection of trading alternatives. CetoEX is a go-to location for anyone interested in learning more about the cryptocurrency industry because of its commitment to listing promising projects and supporting simple trading experiences.
do Follow Us On Social Media and keep reading us